Register via the following links:
To our global community currently in mandated or self-imposed lockdown due to Covid19
YOU ARE WELCOME TO JOIN OUR ONLINE CLASSES FOR FREE
If you do not reside in Victoria (AU), please email us before online cut-off time (3pm Melbourne time, Wednesdays) and we will add you in!
Note: the registration links will change each week so keep an eye on our website for the details of upcoming classes.
Please contact us via [email protected] before 5pm on Wednesdays if you have any issues as we will be busy preparing for class after that.
Feb Foodbank Fundraiser 2022
Thanks to our wonderful dance community, we raised $160 for Foodbank Victoria over the 4 FREE online classes in Feb. Every $1 provides 2 meals and so this means we helped provide 320 meals through this effort. We are grateful to each and every one of you who donated and/or spread the word about the classes and fundraiser to help achieve this!
March IWD 2022 Fundraiser for UN Women Australia
Our March focus was what is happening in Ukraine. International Women's Day is on 8th March, so we usually fundraise for that each year. So, this year, we raised $625 in 5 weeks – profits from our March classes (Wednesdays – online or in-person) plus donated fees from our teaching staff, to UN Women's Emergency Appeal for Ukraine.
June Charity Donation to Kind Hearted Lankans to help Sri Lanka
We donated $300 to Kind Hearted Lankans this June.
We have been watching what has been happening in Sri Lanka with much sadness and after fundraising in Feb for Foodbank and in March for UN Women we didn't get another round sorted in time to help what is The Motherland for some of us Jhoomies.

So we decided on doing it this way.

Thanks to our dance community who regularly attend the classes and/or help promote us ❤ and the teachers and TAs whose talent and passion keep us going.🤗

And because we used Humanitix, all proceeds from class booking fees they charged are going to charities for disadvantaged kids!
WHAT IS BOLLYWOOD?
Bollywood is the Mumbai-based Hindi-language film industry in India. It is one of the largest film producers in the world, producing more than 1,000 films a year and reaching a wider audience than Hollywood.
Bollywood movies are famous for their colourful and elaborate dance sequences which are dynamic, energetic and tongue-in-cheek. The style is theatrical in nature and is a mixture of Modern Indian, Bhangra and Arabic while also including Western influences like Hip Hop, Jazz and Funk.
WHAT ARE BOLLYWOOD DANCE CLASSES?
Ever watched Bride & Prejudice, Monsoon Wedding, The Guru, Slumdog Millionaire or any Bollywood movies and wished you too could dance like that? Join our weekly classes and learn to embody that fun and drama with Jhoom-Bollywood Dance Company and release the Bollywood star within you.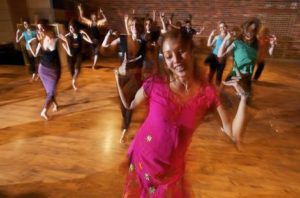 WEEKLY (Wednesdays, Feb through Oct)
Beginning 3rd Feb 2022.
In-person and Online Dance Classes (subject to change based on changing Covid19 regulations)
"Jhoom" means to just dance, spin & have a jolly
(or should we say "Bolly") good time!
RELEASE THE BOLLYWOOD STAR WITHIN YOU…
….AND get a great workout at the same time! Come shake those hips and shoulders!! Who knows, it may spark an interest in you to join the performance team too.
a) Beginner-Intermediate Cardio/Fitness style workout:
Wednesdays @ 7.30pm – In-Person @ Fitzroy & Online
"It's definitely improved my fitness, but more importantly it's helped me lose my inhibitions. For an hour each week you don't take life too seriously." Beginner Class Attendee
In-Person Class Location (Fitzroy):
Level 1 (Upper Hall – access via stairs only),
118 Greeves St, Corner of Greeves and Gore St, Fitzroy, Victoria, AU, 3065
*Tram stop within walking distance – Hodgson St and Smith St.
FAQs (please note some new requirements introduced to remain Covid-safe):
In-person and online attendees will be required to register via Humanitix prior to class each week. Registrations for online classes are 1 per household. Registrations for in-person classes are 1 per attendee (spots are limited as per regulations). Please note there will be no cash on premises.
Registrations will close 3pm for online classes and 5pm for in-person classes on Wednesdays, so please register prior to that if you plan to attend. If you cannot make it, please cancel your ticket so that someone else can grab that spot. If you register for the in-person class, but need to switch to online, please advise us via [email protected] before 5pm on the day of the class and we will send you the online details.
In-person attendees will need to be fully vaccinated against COVID-19 and will need to check in with a QR code. Please arrive 10-15mins prior to class for this. Please wait on the landing or along the stairs, maintaining distance, until you are asked to enter the classroom.
Hand sanitiser will be supplied – please apply prior to entering the classroom and continue to practice good hand hygiene.
In-person attendees to remain distanced as per floor markings during class.
In-person attendees to avoid using the shared washrooms and kitchen where possible.
Please arrive in comfortable work-out clothes. If you have Indian clothing please feel free to get into character.
Appropriate footwear is essential.
Bring your own towel, mask and a bottle of water.
Please do not attend dance classes if any of the following apply to you and if so, please get a Covid-19 test:

you are unwell
you have been in close contact with a known active case of COVID-19
you have COVID-19 symptoms
you have travelled overseas in the previous 14 days
you have been to a declared COVID-19 hotspot in the previous 14 days.
Class details…
New song and dance routine every week, repeating some steps from previous classes whilst also introducing new moves.
Beginner-intermediate level friendly, with high and low impact options given, for a good cardio workout!
Warm up, learn a full routine, perform as a group and cool down – all in 1 hour!
Attendance may be on a casual basis.
In-person classes are for adults only. Children over the age of 10 years permitted provided they are accompanied by a participating parent or guardian.
To maintain a comfortable environment, no spectators allowed in studio.
No classes on public holidays.
Changes to programs (and venues) may be necessary in these unpredictable times. Please follow our Facebook/Twitter/Instagram pages for regular updates on our classes, events and services.
Class format: 60mins:
Teacher will begin exactly at 7.30pm AEST (and spend a few minutes outlining the class process and use of the video conference)

Teacher will take you through a warm-up to music

Teacher will teach the dance routine step by step

Teacher will take you through a cool down with stretches

A video of the class routine will be uploaded to Jhoom Bollywood's Instagram, Facebook & Twitter pages in the days following the class each week.
b) Advanced Level (A-Level) Workshops (over 18 yrs only):
Wednesdays @ 8.30pm – Fitzroy Venue
A-Level sessions will build on a full routine over a number of weeks focusing on technique, strength and stamina. These are not casual drop-in classes. However, If you are quick at picking up choreography and would like to join these sessions and/or have an interest in joining the performance team please email us direct for further info.
If you are specifically interested in joining our performance troupe please let us know and we will send you more information about classes geared towards that. Email [email protected]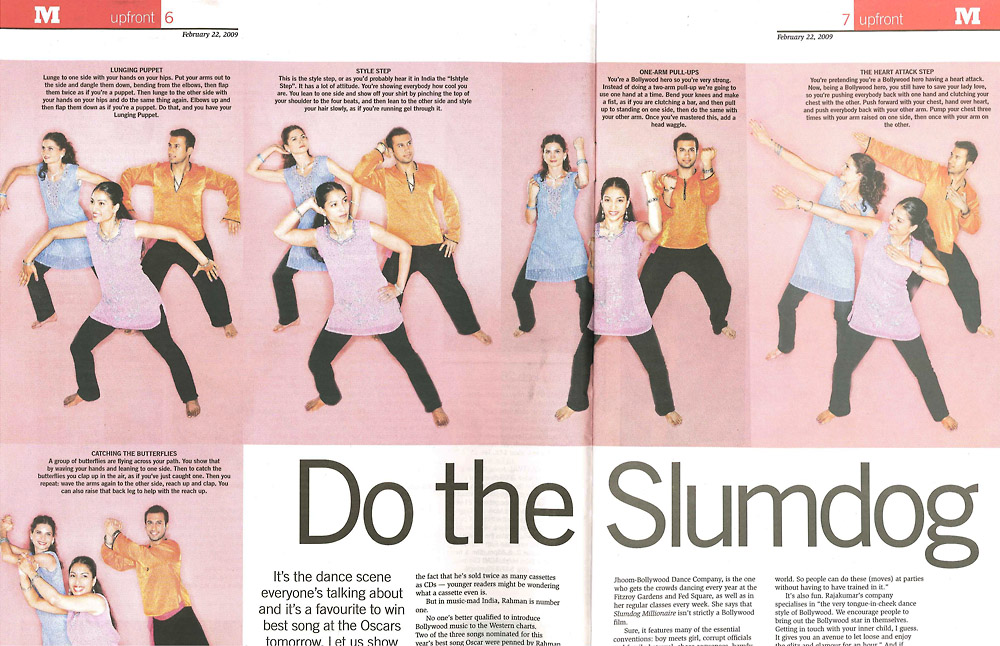 Check out our article in The Age, See the Movie, Do the Dance, its a Bolly Boom, Melissa Kent, Feb 22, 2009